ADIRA PM RANGE ELECTRONIC SYNCRO CNC PRESSBRAKES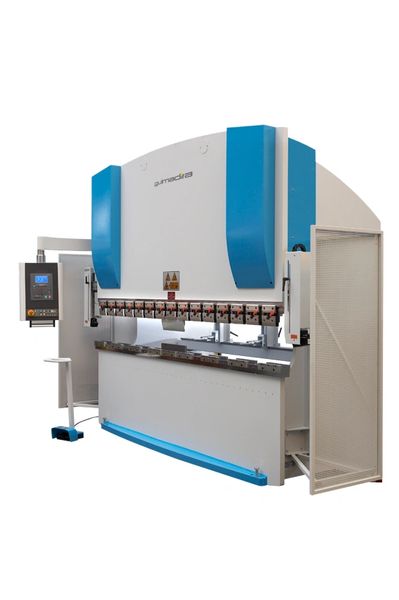 ADIRA PM RANGE ELECTRONIC SYNCRO CNC PRESSBRAKES
A COMPETITIVELY PRICED RANGE OF PRESSBRAKES FROM 135 Ton To 220 Ton up to 4000mm Bending Length
Click here to download range brochure
With more than 50 years of experience in the design and manufacture of conventional press brakes and 25 years in the design and manufacture of press brakes with electronic synchronism, Adira is proud to introduce the new range of press brakes Guimadira PM series.
Entirely manufactured in Portugal, Guimadira press brakes PM series are the ideal solution for users demanding technology and quality with an affordable investment.
We offer press brakes with electronic synchronism of axes Y1 and Y2 that are productive, sturdy, precise, reliable, and easy to operate.
At the same time we are offering the tradition and trust of a manufacturer with over 50 years market leadership, the ingenuity of our engineers, and the competence of our after sales service.
Hexa-C Technology
With this new generation of PM Adira present a different concept of C-frames, designated HEXA-C, which ensures that beams (movable and fixed) remain aligned in any load condition contrary to what occurs in the usual C-structures (see image below).
Advantages:
· Improved bending accuracy because movable beam remains perfectly aligned with fixed beam (avoid the effect of movable beam rotation typical on conventional C-frames)
· Largest immunity to structure torsion effects in case of bending not in the center of the machine.
· Eliminate the needs of extra devices for reading correction of the movable beam position encoders.
· Maintaining throat depth on the frames it's an advantage comparing with H-frames as this feature is important for many applications since it make simpler the removal of parts, execution of box type parts and make things easier for tooling setup.
Ram parallelism and stopping accuracy / repeatability of the bending depth (better than 0,01 mm with possibility of measuring the plate thickness) are guaranteed by an effective interface among all electronic and hydraulic components. The reading of the stopping point is practically independent of the hydraulic pressure, oil temperature, and of the location of the bending force along the beams of the press brake. Therefore, faster and smoother speed change and reduced cycle times are ensured, making the operation of the press brake more efficient and more pleasant to the operator.